These offices are critcal to obtaining needed help for veterans. They are also a rich resource for a family member trying to obtain information about a deceased veteran. Depending on the location you are searching, one of the sites listed below should link you to an office that can help you.
The purpose of this Guide is to help those who are trying to learn more about family members who fought in World War II. This guide is starting out as book and website lists. In the future, additional links to articles, blogs, and blog postings may also be included. Please feel free to leave a comment if you know of a source that has helped you or if you have additional advice on things to do or to avoid while researching military records. And please let me know what has and has not helped you among the items listed here.
You will notice four blue tabs above that will tell you the type of material covered. In this introductory section that you are looking at now, you will see guides to working with military records as well as some supplementary information that may prove useful. You will also see links to online sources where you can find records and additional help.
Material reached by clicking the second tab will include two types of personal narratives. There is a wealth of information that can be found in the writings of those who actually served in the military. It often lends added insight and background information into your own search, not to mention some understanding of what these people went through, especially before, during, and after fighting. The books listed here are just a tiny selection of what is available. The other type of personal narrative included here are those of family members who sought to find either additional information on individuals or to locate family members missing in action. They contain specific information on the methods of a search and where relevant information was found. It might help you in your own search.
The third tab includes works written about regiments, divisions, and broader service histories. These are often overlooked sources of information that can be of tremendous help once you find in what part of the military your family member served. It may give you additonal sources of information when you come up against a brick wall in your search.
The fourth tab is for veterans who are thinking of writing about their war experiences. It is a difficult endeavor to undertake and some of the material here may help. I would also recommend "Do Bar Fights Count?" to family members who cannot understand why a member of their family does not talk about and does not want to write about their experiences during the war. It underlines exactly the same point as many of the books listed above. War is traumatic. It forever changes a person who has been in battle. To write about it is to relive it in the now, not the then. I had a cousin who was a young medic on Omaha Beach. He told me that you grow up quickly when you have your best friend die in your arms. These men deserve nothing less than our gratitude, our understanding, and a respect for their wishes.
Researching Military Records
National World War II Memorial
There is an online Registry that is part of the Memorial. It can be brought up using the link listed below. The WWII Registry combines four distinct databases. Three are official U.S. Government databases maintained either by the American Battle Monuments Commission (ABMC) or the National Archives and Records Administration (NARA). The fourth database—the Registry of Remembrances—is an unofficial compilation of public acknowledgements honoring U.S. citizens who helped to win the Second World War. You can use the databases in your research and can add additional information to the Registry of Remembrance.
This site is dedicated to all the men lost while serving in the United States Submarine Force. It's primary purpose is to honor these men by attempting to put faces to as many of the names on the lists of lost submariners as possible. [The picture and statement are taken, with permission, from the site's main page.]
College and University Veteran Memorials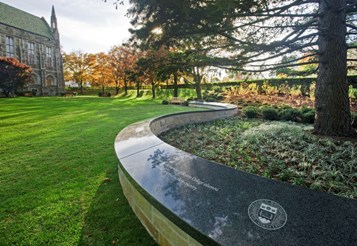 If the person you are researching attended a univerity or college, this may be another source of information. Many have veterans memorials. You can see the one pictured above at Boston College. Below are two local examples of institutions of higher learning that have both a physical memorial and a memorial website.