Mayflower Compact, November 11, 1620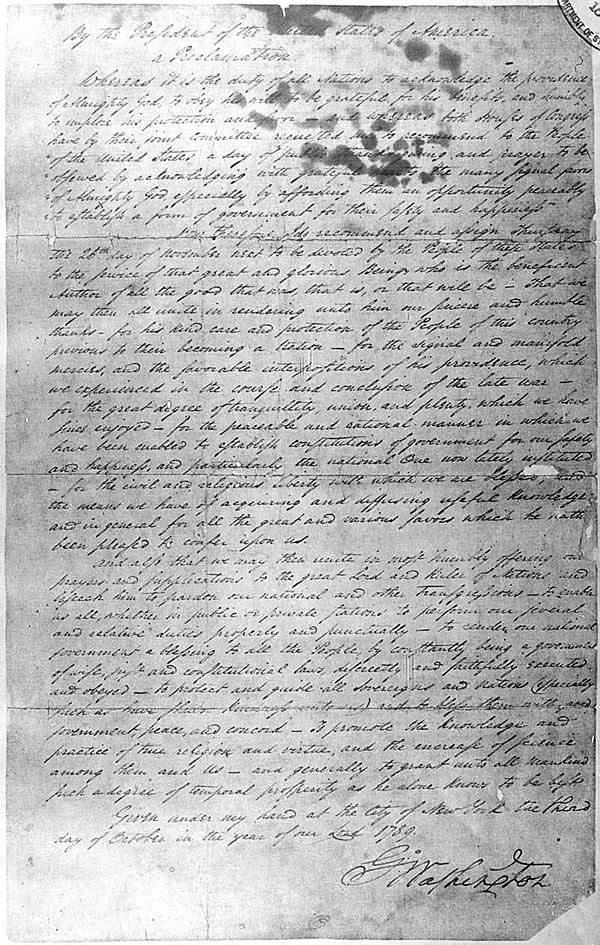 The First Thanksgiving - President George Washington
Washington, DC…On October 3, 1789, President George Washington issued a proclamation naming Thursday, November 26, 1789 as an official holiday of "sincere and humble thanks." The nation then celebrated its first Thanksgiving under its new Constitution.
Followed by:
On October 3, 1863, President Lincoln made the traditional Thanksgiving celebration a nationwide holiday to be commemorated each year on the fourth Thursday of November. In the midst of a bloody Civil War, President Lincoln issued a Presidential Proclamation in which he enumerated the blessings of the American people and called upon his countrymen to "set apart and observe the last Thursday of November next, as a day of "Thanksgiving."
In 1939 President Franklin D. Roosevelt moved the holiday to the third Thursday of November to lengthen the Christmas shopping season and boost the economy still recovering from the Depression. This move, which set off a national debate, was reversed in 1941 when Congress passed and President Roosevelt approved a joint house resolution establishing, by law, the fourth Thursday in November as Thanksgiving Day.
See the full story and documents at The National Archives
Newton Community Food Pantry - 7 Ways to Help
People in need of food have several options. Newton case managers can help you access any of the food assistance programs listed below, or you may access them directly on your own. SNAP Supplemental Nutritional Assistance Program (food stamps), WIC (Women, Infants, Children), Commodity Supplemental Food Program (CFSP - 60 years of age or older), Food Pantries (3 in Newton),
Feature: Law About: Sexual Harassment
MCAD Guidelines on Chapter 151B : Sexual Harassment in the Workplace
FOR IMMEDIATE RELEASE:
Nov. 22, 2017
CONTACT:
J
Free legal advice available Nov. 29 through Ask A Lawyer progra
m
presented by Mass. Bar Associat
ion and WBZ Call for Action
BOSTON, Mass. — Massachusetts res
idents can receive free legal
advice on Wednesday, Nov. 29, by
participating in the Ask A Law
yer call-in program, presented by
the Massachusetts Bar Association,
WBZ Call for Action, WBZ
NewsRadio 1030 and WBZ-TV.
Volunteer lawyers from the Mass
. Bar Association will be at the
studios of WBZ NewsRadio to field
phone calls from 7 to 9 p.m., on Nov.
29, from Massachusetts re
sidents who have legal concerns or
problems. The legal advice is pr
ovided for free as a public ser
vice. The Ask A Lawyer phone number
is (617) 787-7070. If a caller gets
a busy signal, they are ask
ed to hang up and try again. Normal
telephone charges will apply.
Massachusetts Bar Association's Dial-A-Lawyer offers free legal advice on the first Wednesday of each month.
call (617) 338-0610 on the first Wednesday of the month between 5:30 p.m. and 7:30 p.m.
2017: November 1, December 6
Massachusetts Trial Court Law Libraries Document Delivery Service
The Official Results will be available after being certified by the Newton Election Commission.
Bills in the news --Track Congress with Govtrak.us.
MASSterList. News from Beacon Hill
New & Recent Published Opinions (and Lists of Unpublished Decisions): Newly published opinions and a list of unpublished opinions for judgments.
Register for E-mail Notification by Topic
Reporter of Decisions: New and archived published and unpublished opinions