at the Massachusetts State Library. The Chronology begins in 1630:
| | |
| --- | --- |
| | Bradford begins writing "Of Plimoth Plantation," a detailed history of the founding of Plymouth Colony and the lives of the colonists from 1621 to 1647. Bradford writes his last notes in the volume in 1650. |

Thanksgiving Resolutions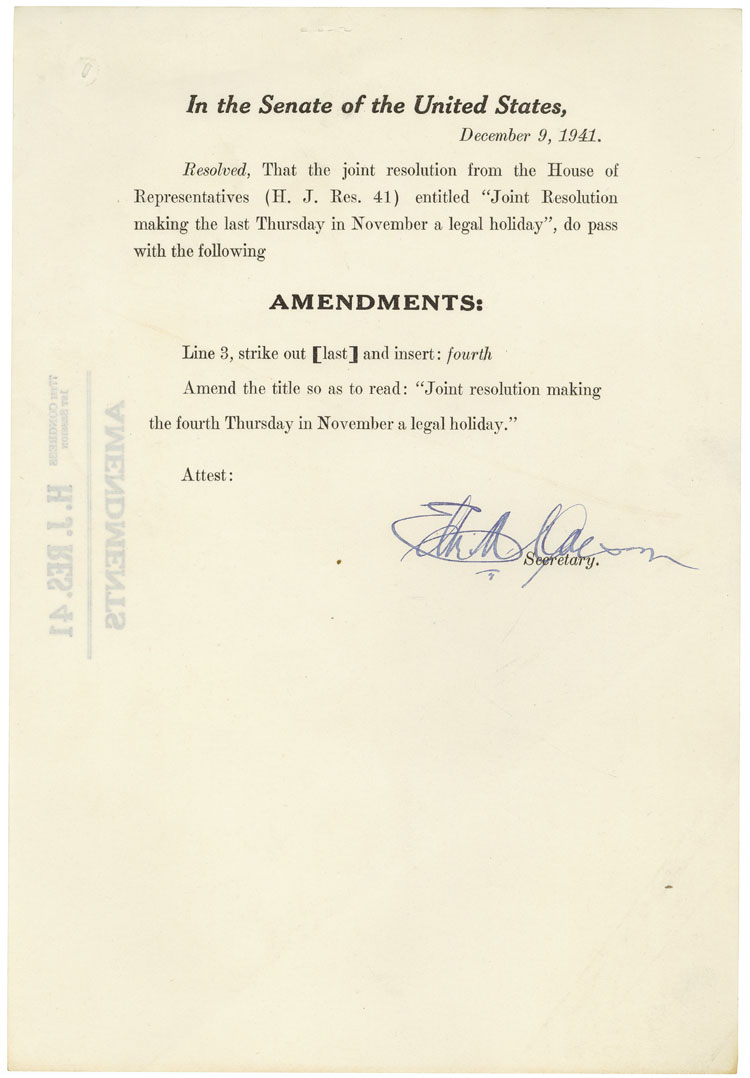 Congress Establishes Thanksgiving
On September 28, 1789, just before leaving for recess, the first Federal Congress passed a resolution asking that the President of the United States recommend to the nation a day of thanksgiving. A few days later, President George Washington issued a proclamation naming Thursday, November 26, 1789 as a "Day of Publick Thanksgivin" - the first time Thanksgiving was celebrated under the new Constitution. Subsequent presidents issued Thanksgiving Proclamations, but the dates and even months of the celebrations varied. It wasn't until President Abraham Lincoln's 1863 Proclamation that Thanksgiving was regularly commemorated each year on the last Thursday of November.
In 1939, however, the last Thursday in November fell on the last day of the month. Concerned that the shortened Christmas shopping season might dampen the economic recovery, President Franklin D. Roosevelt issued a Presidential Proclamation moving Thanksgiving to the second to last Thursday of November. As a result of the proclamation, 32 states issued similar proclamations while 16 states refused to accept the change and proclaimed Thanksgiving to be the last Thursday in November. For two years two days were celebrated as Thanksgiving - the President and part of the nation celebrated it on the second to last Thursday in November, while the rest of the country celebrated it the following week.
To end the confusion, Congress decided to set a fixed-date for the holiday. On October 6, 1941, the House passed a joint resolution declaring the last Thursday in November to be the legal Thanksgiving Day. The Senate, however, amended the resolution establishing the holiday as the fourth Thursday, which would take into account those years when November has five Thursdays. The House agreed to the amendment, and President Roosevelt signed the resolution on December 26, 1941, thus establishing the fourth Thursday in November as the Federal Thanksgiving Day holiday.
CDC Guidelines for Thanksgiving
City of Newton Unofficial Results
Massachusetts Statewide Office Elections Schedule, 2020-2028. Get a head start! Chart showing which years Massachusetts and national election cycles fall.
United States Senate Elections, 2020
About the Electoral College The National Conference of State Legislatures (NCSL) and a fun look at the process from The National Geographic Society's History & Culture / Explainer
HELP WITH LEGAL ISSUES
Massachusetts Bar Association's Dial-A-Lawyer
Call (617) 338-0610 between 5:30 p.m. and 7:30 p.m.
Dial-A-Lawyer is monthly on the first Wednesday
2020: November 4 ; December 2
2021: January 6 ; February 3 ; March 3
MassLegalHelp.org for help with Massachusetts legal issues related to the COVID-19 pandemic
Massachusetts Court System. Emergency Guidance regarding Virtual Court Hearings
Massachusetts Supreme Judicial Court Update
Massachusetts Legal Assistance Corporation (MLAC): MLAC Statement on Confirmation of Kimberly Budd as SJC Chief Justice
Need Legal Help? Try MLAC's List of Legal Resources During the Pandemic Quick links for legal help during the pandemic.
New! Trial Court Help Line The Help Line will be staffed from 8:30 a.m. to 4:30 p.m., Monday through Friday. Call 833-91COURT (912-6878)
If you need to hire a lawyer:
Call us to speak to a trained LRS representative*
(Mon.-Fri., 9 a.m. - 4:45 p.m.) at (617) 654-0400 or (866) 627-7577
Massachusetts Legal Resource Finder
The Legal Resource Finder search results will give you contact information for legal aid programs, nonprofits, government agencies and court programs that may be able to help you with your legal issue for free or at a low cost. It will also give you links to legal information and self-help materials. Click a tab for English, Portuguese (Português), or Spanish (Español)
Massachusetts: Virtual Court Services court users can receive face-to-face virtual assistance from court staff while remaining in the safety of their own homes. Help with Housing, Land, Middlesex Juvenile, Probate & Family Courts and much more.
Expiration of Moratorium on Evictions & Foreclosures. Helpful links for renters, homeowners, & landlords.
American Association of Law Libraries. Public Library Toolkit. Beginning with a section on general legal research, scroll down for STATE-SPECIFIC PUBLIC LIBRARY TOOLKITS. Click on the state you need, example: Massachusetts
If you would like to use Ask a Law Librarian a question, you may chat, send an email, or request a document.
Massachusetts Trial Court Law Libraries Document Delivery Service
Locations and Contact Information for Massachusetts Trial Court Law Libraries

New! Ask your Massachusetts public librarian to search Social Law Library databases.
Massachusetts Public Libraries: LIBRARIANS LOGIN ONLY.
MASSterList. News stories from Beacon Hill. ALSO: Job Seekers: On Mondays, check the Job Board Listings!